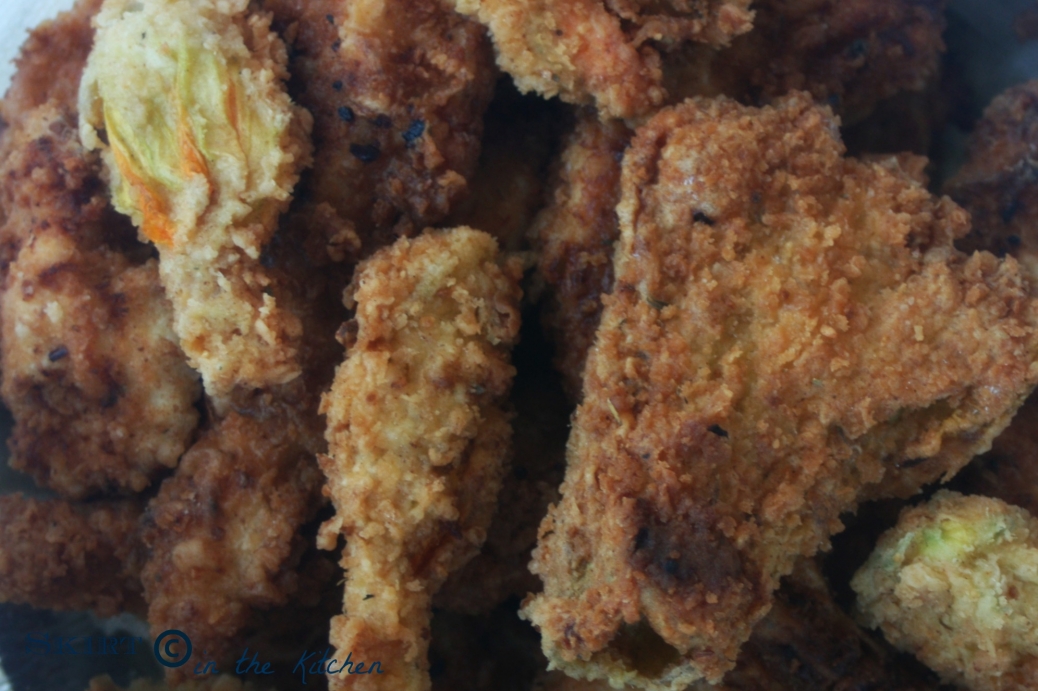 Welcome to this week's edition of Rocking Tailgate and you are in for a treat.  I'm going to share my wife's fried chicken and pumpkin blossom recipe with everyone.  It's one of her original recipes and is one of my favorite dishes she makes late fall when the pumpkins are in bloom and is an easy camping/tailgating dish.  This recipe was originally posted on skirtinthekitchen.com by Susan Nuyt
Fried crispy chicken and pumpkin blossoms go hand-in-hand just as well as a cheeseburger and fries but it takes eating a pumpkin flower for the first time to know it.  The pumpkin blossom resemble the flavor of fried sweet potato to me.  This is one of those dishes that you will be happy you tried.
Why fried chicken and pumpkin blossoms?
This is an easy dish which can be cooked in the same oil and the blossoms take on the seasonings while keeping their natural sweetness.  The pumpkin's orange blooms are slightly softened while keeping a crispy exterior.  It's the crunch that you'll want to munch, then be glad that you did.  Pumpkin blossoms are full of nutrients and are perfectly safe to eat if organically raised with their offspring-the pumpkins.  They have more Vitamin C and folic acid than pumpkins and are high in calcium and phosphorus.  (They also have a lot of water, making it easy for them to become slimy if not fried immediately)  You can serve as a vegetable to accompany the meat dish or have others.
Tips for gathering your blossoms
It is wise to gather these in the very early morning hours before they have a chance to wilt and shrivel from the heat of the afternoon.  Pumpkin blossoms naturally fall off the vines on their own.  There are plenty that you can find that are recently on the ground or in the grass.  Just a tap on a stem can loosen them if it's their time to fall, giving you a clue that they are ready to break free, because they will.  They've done their job-they reproduced or not at all.  They left baby pumpkins to fend for themselves.  Like humans, they have a life form and a reproduction system, having either a female part or a male gender.  The blossoms with a little pumpkin ball below the bloom is the female, the ones without are the males.
After gathering the spent blossoms, keep them chilled in parchment paper.  Do not clean them until it's time to fry them; otherwise, they will break down and become mush.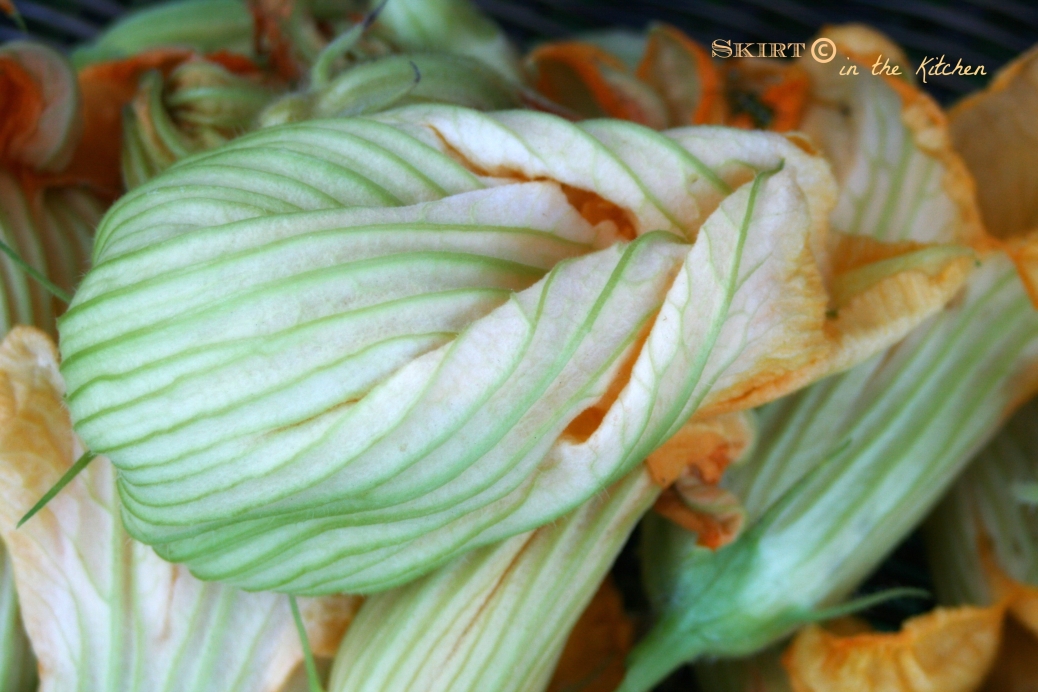 Ingredients and Cooking Supplies
Basics
3lbs of chicken wings or drummettes
Pumpkin blossoms
Buttermilk (if you don't have, you can make your own with 1Tbsp of white vinegar and 1 cup of whole milk)
Salt & Pepper
Panko Japanese bread crumbs (2 cups)
Eggs (3 large)
Flour (2 cups all purpose)
Smoked Paprika (1 Tbsp)
Weber Roasted Garlic & Herb Seasoning (3 to 4 Tbsp or to taste)
Cooking oil (whichever you prefer)
Large food prep bowl for dry ingredients
Med mixing bowl for liquid ingredients
Parchment paper or other to place the blossoms on
Pan deep enough to hold enough oil to cover at least half of the chicken wing
Heat source (oven, grill, hot-plate or over a campfire)
Preparing
Add buttermilk into a bowl with 3 large eggs and whisk.  Note: If you don't have buttermilk, take a fork, combine 1 tablespoon white vinegar in 1 cup whole milk.  Allow to rest for 15 minutes, then whisk it (homemade buttermilk) with 3 large eggs.
In another dish, have dry ingredients ready-2 cups Panko Japanese bread crumbs and 2 cups regular flour.  The Japanese bread crumbs are essential for the pumpkin blossoms.  Add seasonings of 1 tablespoon smoked paprika and Weber Roasted Garlic & Herb Seasoning-3 to 4 tablespoons, possibly more.  Heat oil to around 350°.
Time to Cook
When the oil is up to temperature, dip the chicken into wet batter, then into flour; double-dip if you'd like.  Once covered in the batter, place into the oil.
While the chicken is frying, you will want to clean the pumpkin blossoms.  You will want to handle with care so they don't break apart.  Carefully open the petals to lightly clean them with fingertips and to make sure there are no bugs hiding inside.  If you have large fingers, you can use a small brush, like an art brush, but for culinary purposes is ideal for even the outer portion.  Pull out the inside centers, the reproductive parts only if it's slimy.  Some have a slight tartness, and we  like that, so she fries up whole…Keep everything intact, even the base and stiff "leaves".  It's all good, healthy, and beneficial.  The base also holds the blossom together, so you definitely want it on.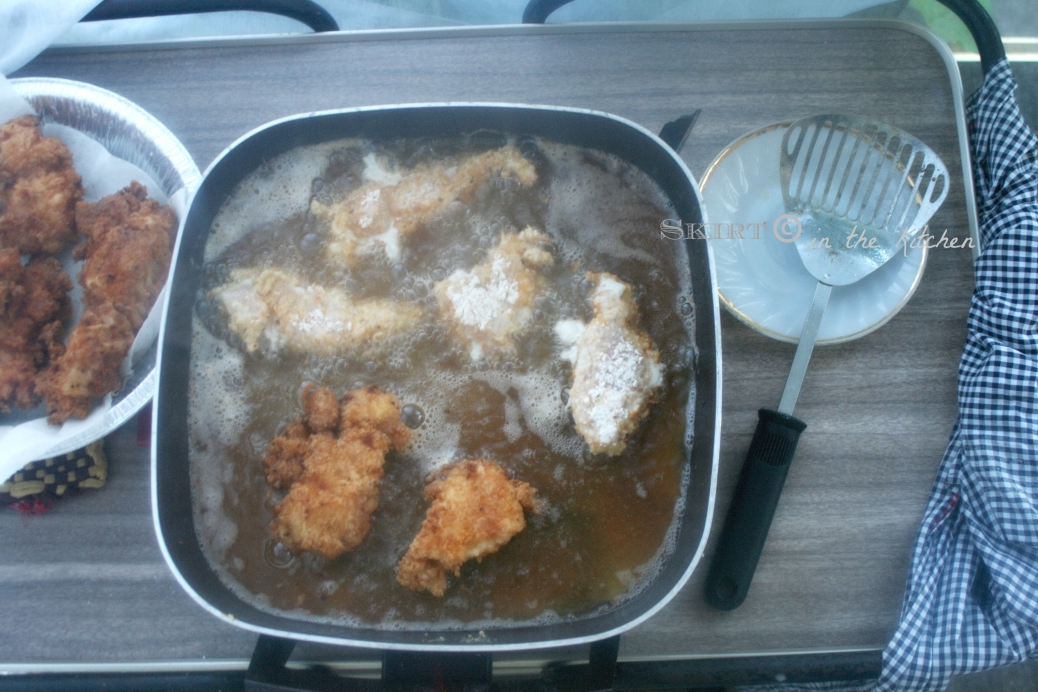 Check your chicken and if it isn't submerged, flip it to cook the other side when ready.  Once the chicken is done, remove from the grease and place on a plate covered with a couple layers of paper towels and allow the excess grease to be removed.
You will repeat everything you did for the chicken for the pumpkin blossom except you don't want to double dip it since they are thin and too delicate.  It takes just 3 minutes to fry (flipping once).  Remove, place on paper towels to remove the excess grease, sprinkle with salt, and enjoy.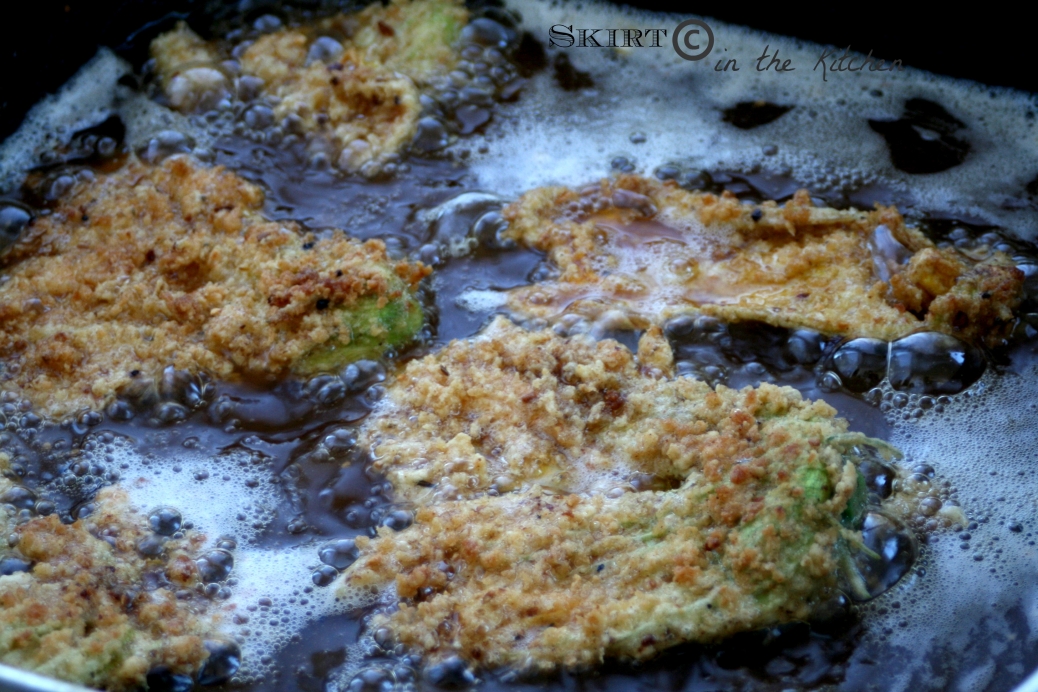 For the complete list of our other great Rocking Tailgate recipes, check out the Rocking Tailgate series.