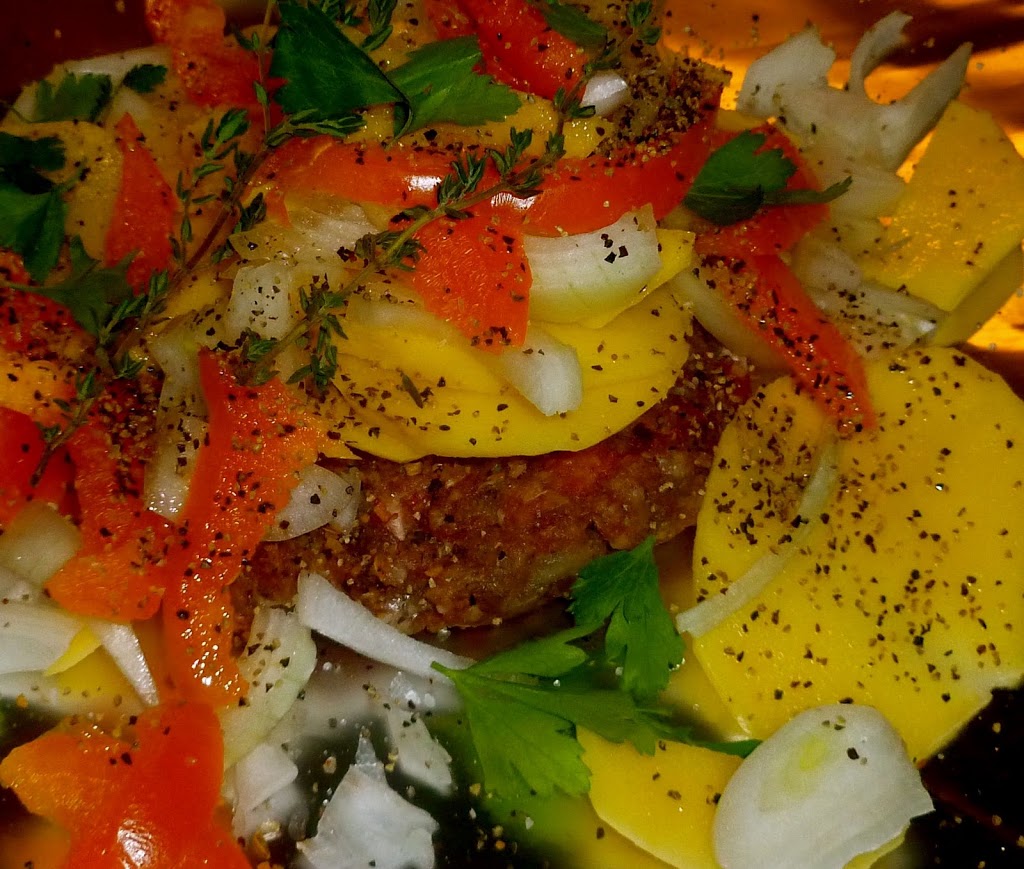 Welcome to this week's edition of Rocking Tailgate and you are in for a treat.  I'm going to share my Hobo Pie recipe with everyone.  It's been in my family for generations and is one of my favorite dishes to make when nothing else sounds good or for an easy camping/tailgating dish.  This recipe is an adaptation of the one originally posted on skirtinthekitchen.com by Susan Nuyt
What is a Hobo Pie?
The Rocking Tailgate Hobo Pie is truly a versatile dish in almost every way. There many ways to prepare it, cook it, and it gives you the ability to serve it without the need for dishes (if you choose).   You can prepare on site or fix ahead of time and take with you to cook when you are ready.  Best of all, it is totally customizable for each person if you have picky eaters.
A Hobo Pie is basically a complete meal contained inside aluminum foil.  The basic Hobo Pie contains a hamburger patty, sliced potatoes, onion, salt, pepper, and butter.  The great thing is, you can add or subtract items to make it as basic or fancy as you please.
Ingredients and Cooking Supplies
Basics
Hamburger patties (you will have 1 per dish/serving)
Potatoes
Onion
Salt & Pepper
Butter
Aluminum Foil
Large food prep bowl is helpful
Heat source (oven, grill, over a campfire, or IN a campfire)
Suggested additional ingredients
Any seasoning you like for your hamburgers
Peppers (adds a nice flavor)
Corn (ear or Kernel)
Sprig of Rosemary or dash of Thyme
Parsley
Squash (sliced or cubed)
Garlic
Preparing
Probably the longest part of the preparation of this is peeling and slicing the potatoes.  You'll want to wash them first, peel, and slice fairly thin (@ 1/16″-1/8″).  This will help the potatoes to cook faster.  If you have a slicer, a mandolin, or a food processor that has a slicer attachment, it will greatly speed this part up.
As you slice them, add them to a large food prep bowl that has clean water in it.  This does a couple things.  It keeps the potatoes clean, and allows some of the potato starch to come out and will make for softer potatoes.  It also adds moisture to the potatoes which keeps them from turning color and will allow them to steam better.
Once you have the amount of potatoes you want, slice your favorite onion.  I like to add a healthy dose of onion in this dish to season the meat and potatoes.  Don't skimp.  (You can also add diced onion to the hamburger meat) Once you have your onions sliced, set aside.
Prepare the hamburger.  When I am in a hurry, this can be as simple as making them into patties.  The flavors will come through, but not as well as if you season it as you would to make it normally.  It's totally up to you.
Take 2 strips of aluminum foil and criss-cross them on your preparation area.  You want them to be long enough to surround your "individual" meal.
At this point, strain the water from the potatoes.  Form a hamburger patty and place it on the aluminum foil.  Now, depending on how you like your meals and flavors will dictate how you prepare the final part.  You can mix all the vegetables or keep them more separated.  I tend to add onion to the potatoes and toss, but you could add onion and a handful of potatoes over the patty separately too.  The burger patty will remain on the bottom to ensure it gets cooked thoroughly.  I add the rest of the ingredients and lightly hand toss to get it mixed. (Note: If adding the twig of Rosemary, lay them on top for easy removal after cooking)
Once the ingredients are in there, it is time to put a couple pats of butter across the top.  The bigger the dish, the more butter to add (I add as much butter as I would put on a large baked potato).  Salt liberally with Kosher or other Sea Salt for best flavor and healthier option for salt.  Give a good covering of Pepper too.
After it is seasoned, it's time to wrap.  You will want to grab each side and lift up to allow the dish to take on a slightly rounded look.  Bring the inside foil together and twist the ends together.  Then take the outside layer and do the same.  This creates a chimney effect and a convenient handle for removing from the heat.
Set each wrap to the side and repeat as many times as needed to get the amount of servings you are preparing.  If you are taking this camping or tailgating, set in a cooler over ice to keep it fresh until needed. (Hint: Don't allow the ice to melt and submerge your pies.  If this might happen, place on a rack in the cooler in large zip lock freezer bag or Tupperware container to make it air/water tight.)
Time to Cook
There are many ways you can prepare this.  You can place in an oven at anywhere from 325°-400°.  Depending on how thick the burger is and how many potatoes and other goodies will dictate the time.  Typically, about 45 minutes at 350° is a good time to check if in an oven.
For a grill follow the oven guide.  Campfires are all about size and temp.  You can cook this over a campfire and peel back the foil a bit to check for if it is done starting about the same as oven.  If cooking in the coals, it may be best to add another layer of foil, and make sure you have something to retrieve the food with.
It's done, let's eat
You will know it is done when the potatoes are cooked.  If the potatoes are cooked, the meat below them is.  Careful of the steam when you remove from the heat.  Allow it to cool a little so you don't get burned by the foil.  Now it is time to enjoy.  You can place on a plate and open the foil, or you can open the foil and place on a picnic table.  Do NOT place on your lap though since the juices will be hot and can leak on your lap. 
Everybody enjoys these their own way.  Kids, will most definitely love this with ketchup squirted over the top, heck, I still do this as an adult. What can I say?  Hope you enjoy it.
For the complete list of our other great Rocking Tailgate recipes, check out the Rocking Tailgate series.