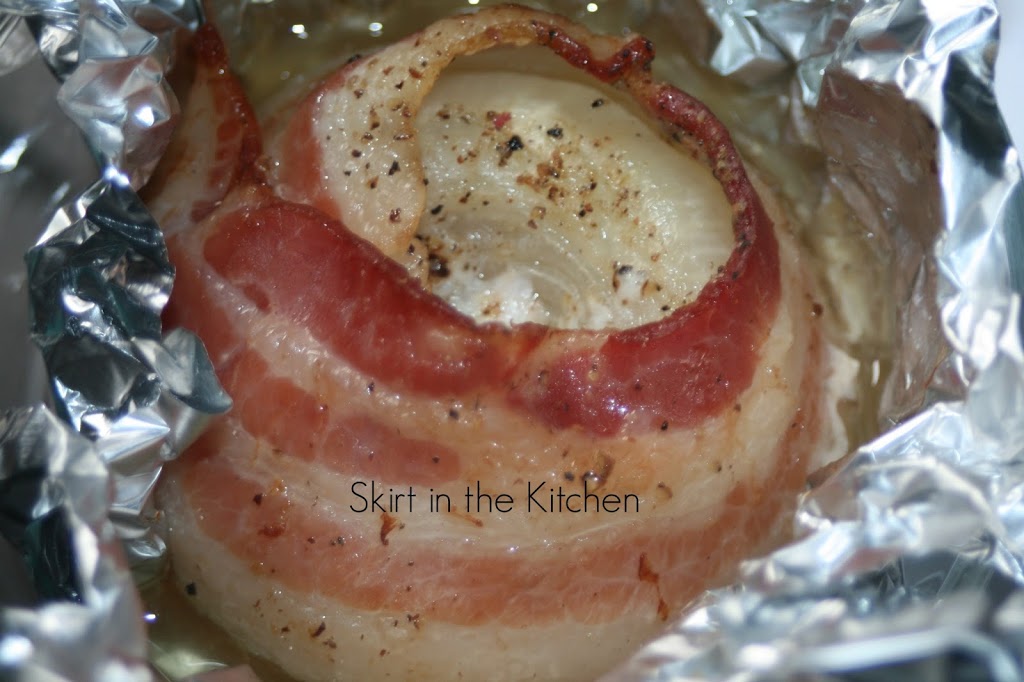 Welcome to this segment of Rocking Tailgate.  Today I'm covering something a little different.  Instead of a main course, or feature dish, I'm going to show you how to make a great side that can stand on it's own, or be torn apart and used in or on other dishes you may be cooking up.
I'd love to claim this as my own, but it is actually an adaptation my wife over at Skirt in the Kitchen tried that was by Tricia Yearwood and she called it Uncle Georges' Grilled Onions.
I'll be adapting it a bit myself, but not really enough to say it is mine or really adapting.  I guess I am just sharing it because it is good.
What is the Grilled Onion?
This dish is like I said above, it's a side dish that can be torn apart and used in or on other dishes.  It's a Vidalia onion wrapped in bacon that is grilled or can be done in the oven.  You can eat it straight off the grill which is excellent, or you could take it off the grill, tear it apart and put it on burgers which is another way I like these.  You can basically put it anywhere you'd normally use grilled onion.
Ingredients
The Grilled Onion is an extremely simple side to make.  It consists of very basic ingredients that most households and tailgaters have on hand.
Vidalia Onions
Butter (margarine is fine for the health conscious)
Salt (I prefer coarse or Kosher)
Pepper
Bacon (any is fine, I prefer smoked Applewood)
Aluminum Foil
Toothpicks (optional)
That's it, all of five ingredients and foil.  You may want toothpicks too.  You can use them to secure the bacon.  Just be careful to remove them prior to serving.
Preparing the grilled onions
As I said, this is one of the simplest Rocking Tailgate sides to make.  You take your aluminum foil and tear or cut into squares large enough to wrap your onion and twist the top.  You can stack the foil squares if you have limited space.
Next you have to prepare the Vidalia Onions.  To do that, you cut the tops and roots off.  Once that is done, strip off the outside hard part of the onion.  Now, place the onion on a flat surface to protect your hand, angle your knife and cut a funnel shape down into the onion.  Make sure you don't go all the way through.  You want to go between half and two thirds the way through to make a pocket.
Prepare the foil by smearing a little butter on the center area.  You can use cooking oil or spray oil if you prefer.  The idea is to create a non-stick surface for the onion.
Next we're going to wrap a piece of bacon around the onion.  You can cut the bacon in half for smaller onions or use the whole slice for larger ones.  Once wrapped, set it on the top piece of foil.
Take a scoop of butter and fill the onion to the top, sprinkle with salt and pepper, wrap the foil up around it, and lightly twist the top of the foil to make a chimney for the steam to escape.  It also works as a handle to take them off the grill later on.
Cooking the grilled onion
You should now have all your onions prepared and ready to be grilled.  You will want a medium heat if cooking over the coals.  If you have a hot flame and an upper grill area, that works well. The goal is to have enough heat to cook the bacon while the onion is simmering in the butter.
Cook until the bacon is done and the onion is soft and translucent.   I know I said you can use the foil for a handle, but use tongs or an oven mitt to take them off the grill.  They will be hot and steaming and you don't want the butter to splash on you.  Be careful not to tear the foil.  Set on a plate or other safe area to cool for a few minutes.
How to enjoy your grilled onion.
Lightly pull apart the tops to reveal the onion.  Careful not to put your face or other body parts above as you could get burned by the steam if you wrapped the top too tight and it trapped steam inside.
Remove the toothpick and enjoy.
I like to eat mine with a fork and knife (to cut the bacon), but I've also had them on top of a grilled burger and chicken breasts for a sandwich.  All ways are exceptional.
Well, I hope you enjoyed our latest Rocking Tailgate.  If you would like more ideas for you next tailgating event, picnic, or just grilling out, check out our other recipes in our Rocking Tailgate series.Skirt in the Kitchen.