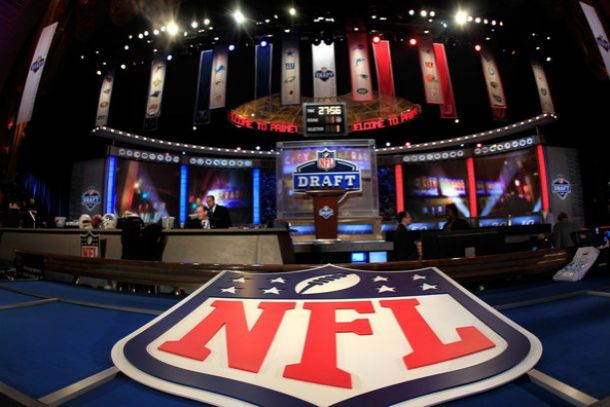 Draft Day Nears
With draft day quickly approaching, only days away, I, along with other Rams' fans around the world have worked ourselves into a frenzy trying to figure out how the Rams will approach the first round of the Draft.

Draft Day Speculation
Various experts and insiders have voiced their opinion, as have members of the media. CBSSports.com NFL Insider Jason La Canfora thinks there's a better than good chance that the Rams may trade up to #2 overall in order to draft Marcus Mariota. Armando Salguero of the Miami Herald seems to be concerned that DeVante Parker may not be available for the Miami Dolphins to draft due to interest from both St. Louis and Minnesota.
At the end of the day, nobody knows for sure how the first round of the 2015 NFL Draft will play out in the Windy City, save the Tampa Bay Buccaneers. The smart money is on the Buccaneers drafting Jameis Winston #1 overall. Beyond that, its all a guess.
Various mock drafts have the Rams taking Brandon Scherff, La'el Collins, Amari Cooper, Kevin White, DeVante Parker or possibly Todd Gurley.  Few, if any, mock drafts have attempted to take a stab at trying to predict possible trades, but rest assured there will be trades. Whether or not the Rams are involved in those trades is anyone's guess, but, if I was a betting man, I'd wager that the Rams are involved in AT LEAST one trade, if not more.
In any given draft there are three scenarios for any team to take: Stand pat, and hope that a player they value at or above their current slot falls to them, trade up to secure a player they value above their current slot, or trade back to secure more picks, and therefore better value, than what was available at their original pick.
Staying at the original pick is always an option, but, unless Collins, White, or Cooper fall, it's unlikely that the Rams will stay at #10. Snead and Fisher have shown that they will draft for value AND need over simply drafting for need. They're not afraid to trade down, or up, or up and down in the same draft, if they feel that they're getting the best value they can with the picks they end up using. Even in a relatively weak draft (aside from positions the Rams are already loaded at, namely defensive line, or at WR, which is a need for St. Louis, but not a pressing one), guard isn't a position that's typically a good value in the top 10. Scherff is projected to play guard at the NFL level, and Fisher is a coach who doesn't usually value offensive TACKLES in the first round. He made personal history in 2014 by selecting Greg Robinson at #2 overall, so there IS some precedent for a first round offensive lineman, but a tweener such as Scherff probably isn't in the cards for the Rams, at least not at #10. I'd rate staying put at their current slot as the least likely scenario for the Rams.
Trading back is something that a lot of fans have at the top of their wish lists, as the Rams find themselves short a couple of picks in 2015 thanks to the trade for Mark Barron in 2014. Trading back gives the Rams the ability to select a player they want at an appropriate slot while also adding more value in the form of an additional pick. I think the most likely scenario for St. Louis in 2015 will be to trade down further in the first round, grabbing an additional second round pick in the process. This will allow them to pick up an offensive lineman at a lower, more appropriate draft slot, as well as give them the ammunition to move back up into the bottom of the first round and grab another player who they may value.
Trading up, as has been speculated by the media, would be expensive in terms of future draft capital. How expensive? Well, the Rams set the benchmark in 2012 with the RGIII trade, but nobody has come close to matching that in the years since. If they are serious about trading up to #2 overall with the Titans, then they're probably looking at a trade that would involve the #10, the Rams 2016 1st rounder, and possibly a lower round pick in either 2016 or 2017. I'm of the opinion that, with the young talent that the Rams already have on the roster, they are one of the few teams in the league that could absorb the loss of a future first round pick. Coupled with the 2016 2nd rounder the team acquired from the Eagles in the Sam Bradford trade, they would still have some draft capital to make a move into the first round in 2016, even if they trade their pick in this year's draft. The matter of whether or not Mariota will be worth such a hefty price is a bit up in the air. I'm personally of the opinion that Mariota will be successful in the NFL for many years to come, although 2015 will probably not be his breakout year. Some feel that Winston is the only future franchise quarterback in this draft, while others feel as though there isn't a franchise quarterback available.
The bottom line is, with the draft quickly approaching, nobody knows for sure what will happen, or how good the players selected will be. If player scouting was a perfect science, then the teams with the best picks would always end up with the best players. Because it's not, we're left with countless mock drafts, players shooting up draft boards because of combine tests, then falling down because of "red flags" or "injury concerns" or because Player A rolled out of bed on the left side instead of the right, which means that he may not be the future of Franchise 1 for the next 10 years.
So what do I think will happen? I'd say the Rams are going to trade into the lower part of round 1, picking up a 2nd round pick in the process. I don't think they'll stop there either, as I have a feeling they're going to trade down yet again, maybe only a couple of spots, to grab another 2nd round pick. In my mind, offensive line will be the focus. The Rams, as of right now, need an offensive tackle, offensive guard, and a center, all of whom are starter quality. I don't see that as an insurmountable goal, but I also wouldn't hold my breath on any starter quality offensive linemen dropping to the Rams in round 4. That means that the bulk of their damage will need to be done in rounds one, two, and three. With one first, and 3 seconds, they should be able to not only fill their needs on the offensive line, but also get another wide receiver toy for Nick Foles to play with.
AT the end of the day, I don't really KNOW anything. Draft Day is coming. Are you ready?